Pulsed Electromagnetic Field (PEMF) in Vienna VA?

Here at the office, we utilize pulse electro-magnetic field therapy, also known as cellular exercise, to support the body's natural healing ability by exercising and stimulating the trillions of cells in your body so they may perform at optimal capacity. Characteristically, weak cells have low voltage, PEMF Cellular Exercise replenishes energy in the cells. Strong cells create more strong cells! Optimally functioning cells = increased ATP production (more energy), improved immunity, better quality of sleep, strengthened bones, and increased pain relief.
PEMF directly impacts the nervous systems. No healing, repair, or growth takes place in the body without the signals, or electrical impulses, sent by the central and peripheral nervous systems. PEMF has also been found to induce GABA, an inhibitory neurotransmitter that calms and relaxes in certain parts of the brain.
Have you heard of Pulsed Electromagnetic Field (PEMF) Cellular Exercise? We are proud to offer PEMF Therapy at our Vienna VA chiropractic clinic. Call us today with questions.
---
What are some benefits of PEMF Cellular Exercise In Vienna VA?
PEMF Cellular Exercise has been found to support the body's own healing ability by replenishing the natural charge that exists in healthy cells. When your body is healthy you sleep better, experience more energy, and are less likely to experience pain and inflammation.
How your cells naturally can recharge:
Earth's magnetic field
Spring water – water direct from the earth, not processed
Unprocessed raw food
And now, a fourth way, Cellular Exercise (PEMF)!
Cellular exercise is the application of pulsed magnetic fields to the entire body and areas of issue. Exercising the cell in this way allows for an exchange of fluids. Toxins are expelled, and fresh minerals, nutrients, and water enter the cell-stimulating optimal function. An amazing wellness therapy to aid the body's natural ability to heal!
---
PEMF Has Been Proven Effective For:
Pain relief by increasing endorphins
More energy via ATP
Nerve and tissue degeneration
Improved Immunity
Better oxygenation and circulation
Better sleep
Improved Human Growth Hormone (HGH) production
Relaxation and stress reduction
Builds stronger bones
And much more!
---
What is PEMF Cellular Exercise?
Pulse Electromagnetic Field (PEMF) Cellular Exercise is a therapy in which electromagnetic fields reach deep inside your body to exercise your cells. It causes your cells to expand and contract, similarly to when you work out at the gym. Just like your muscles, your cells need to be strong. Weak cells are characterized by low voltage. PEMF Cellular Exercise replenishes energy in low voltage cells. As your cells expand and contract, they can expel toxins and absorb nutrients. Your cells' voltage increases and they grow stronger. High-voltage cells can grow, heal, and reproduce successfully. Strong cells will create more strong cells!
---
What is the history of PEMF Cellular Exercise?
The basic technology has existed in various forms for decades, starting with Nikola Tesla's alternating current in the 1800s. About seventy years ago, Dr. Harold Saxton Burr, Ph.D. proved that disease was preceded by a quantifiable imbalance in our electrical charge. Shortly after, PEMF Cellular Exercise began being used to aid in bone growth. It currently is used to support whole body wellness.
---
What is the Pulse XL Pro? (or NRG Pro)
The Pulse XL Pro (or NRG Pro) is the only Cellular Exercise system in the world to combine solid-state engineering, integrated electronics, and user-controlled adjustable pulse and magnetic field strength.
---
What is PulseFuel? (or Refuel)
PulseFuel (or Refuel) is a 100% carbon-bond liquid trace mineral supplement, an all-in-one multivitamin enhanced with humic and fulvic acids. Humic and fulvic acids assist in expelling toxins from your cells.
---
Are there things in your life that your chronic condition is preventing you from doing?
Playing with your children or grandchildren?
Exercise Classes? Golf? Yoga? Skiing?
Spending time with family and friends?
If you or someone you know is suffering from chronic pain, unresolved disc pain or sciatica, low energy or fatigue, fibromyalgia, neurological disorders, post-stroke, depression, anxiety, or incontinence, PEMF could be the missing piece for people that are frustrated and seeking a higher level of function.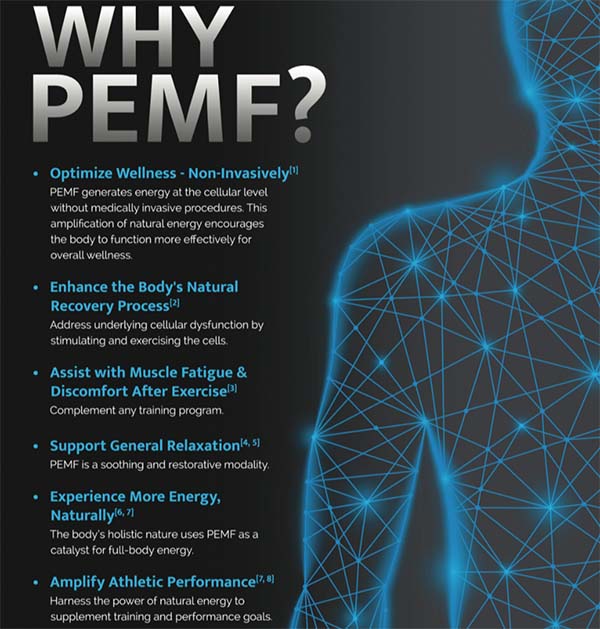 OFFICE HOURS
---
Monday
9:00am - 5:00pm

---
Tuesday
7:00am - 4:00pm
---
Wednesday
9:00am - 5:00pm
---
Thursday
7:00am - 4:00pm
---
Friday
Closed
---
Saturday & Sunday
Closed
Back in Action Health Solutions